Blog
Friends with Benefits - FWB's
Aug 20, 2023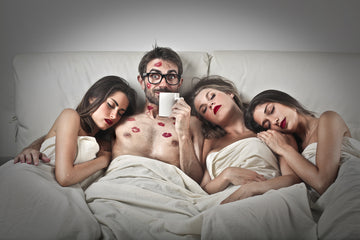 A friend with benefits situation is not for everyone and it's important you are honest with yourself and steer clear of any situation that doesn't serve you.  But if you are in an FWB situation, we have some tips for you.....
How can effective communication enhance a friends with benefits relationship?
Open and honest communication is the key to any successful relationship, including friends with benefits. In this unique dynamic, clear communication becomes even more important as it helps establish boundaries, manage expectations, and ensure both parties are on the same page. By openly discussing desires, preferences, and concerns, friends with benefits can create a solid foundation for a mutually satisfying arrangement.
Why is transparency crucial in a friends with benefits relationship?
Transparency is the cornerstone of trust in any relationship, and friends with benefits are no exception. Being transparent about intentions, emotions, and any changes in feelings is essential to maintaining a healthy dynamic. When both individuals are open and honest, it fosters a sense of security and prevents misunderstandings or hurt feelings from arising.
How does honesty contribute to the success of a friends with benefits relationship?
Honesty is the glue that holds any relationship together, and friends with benefits are not exempt from this rule. By being truthful about desires, expectations, and any changes in circumstances, both parties can make informed decisions and avoid unnecessary complications. Honesty also allows for a deeper level of connection and understanding, creating a more fulfilling experience for both individuals involved.
What role do boundaries play in a friends with benefits relationship?
Establishing clear boundaries is crucial in a friends with benefits relationship to ensure that both individuals feel comfortable and respected. Boundaries can include physical limits, emotional availability, and expectations regarding exclusivity. By setting and respecting these boundaries, friends with benefits can maintain a healthy balance between intimacy and independence.
Friends with benefits relationships can be a fulfilling and enjoyable experience when approached with open communication, transparency, honesty, and clear boundaries. By embracing these principles, individuals can navigate this unique dynamic with elegance, sophistication, and mutual respect.
Using sex toys with FWB's
Using sex toys with friends with benefits can be an intriguing and exhilarating experience. It is essential to approach such a situation (like all relationships) with open communication, trust, and clear boundaries. Incorporating these pleasure-enhancing devices into your intimate encounters can introduce new levels of excitement and pleasure. The use of sex toys can help in exploring each other's desires, preferences, and boundaries, fostering a more satisfying sexual connection. However, it is imperative to ensure that both parties are comfortable and consenting to this experimentation. This can be achieved through a conversation that establishes limits, expectations, and any potential concerns. Consent plays a vital role when introducing sex toys, as everyone involved should feel empowered and in control of their sexual encounters. We cannot stress this enough, it is important to maintain the hygiene and safety of the toys by cleaning and storing them appropriately. While the use of sex toys can amplify pleasure and create new sensations, it is crucial to prioritize the emotional well-being and satisfaction of both individuals involved. Open communication, respect, and a shared understanding are key components in navigating this aspect of a friends with benefits relationship, leading to a fulfilling and enjoyable sexual dynamic.
***
We are excited to offer you tax free shopping on our entire selection of adult sex toys and sex accessories and fast and discreet shipping across the United States and Canada.  Use our Brand Ambassador's code: 'therealmeghulme' at checkout.  We understand the importance of discretion and offer a seamless shopping experience.  Have questions about your pleasure purchase? We'd be delighted to assist you.  You can contact us here.