Blog
The Significance of Flirting in Cultivating a Lasting Relationship
Jul 23, 2023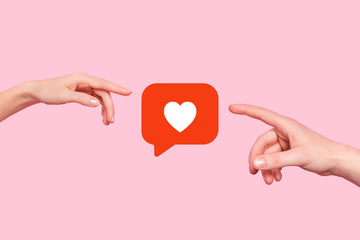 It doesn't matter if you've been dating for 6 months, 6 years or 36 years, NEVER STOP FLIRTING with your partner!  Flirting can contribute to building and maintaining a strong emotional connection in a relationship.
Flirting, often associated with the early stages of a romantic relationship, may seem frivolous or even unnecessary as a relationship progresses. However, understanding the true importance of flirting can enhance the bond between romantic partners and reignite the spark that initially ignited their connection. Today we will delve into the role and significance of flirting, demonstrating how it fosters intimacy, effective communication, and a vibrant, lasting relationship.
1. Fostering Intimacy:
Flirting plays a crucial role in fostering intimacy between partners. Flirting involves vulnerability and opening up emotionally in a safe and playful way. It allows couples to express their desires, affection, and admiration in a playful manner. By using subtle gestures, deep eye contact, or gentle teasing, couples reinforce their emotional connection and reaffirm their attraction. Intimacy thrives as partners engage in this intimate dance of flirtation, building trust, and ensuring that emotional bonds and desires remain strong.
2. Refreshing Communication:
Flirting serves as a refreshing tool for communication within a relationship. Couples who engage in flirtatious banter or playful teasing often find it easier to express their feelings openly and honestly. By lightheartedly addressing sensitive topics or infusing humor into discussions, flirting creates a safe space that encourages healthy and effective communication. This fresh approach to communication helps to address conflict constructively and facilitates a deeper understanding of each other's needs and desires.
3. Reigniting Passion:
Over time, relationships can experience a natural decline in passion and excitement. Flirting, however, acts as a catalyst for reigniting the flames of passion. Through flirtatious acts and playful innuendos, couples create an atmosphere that revitalizes desire and keeps the erotic element alive. It injects excitement into the relationship, reminding partners of the exhilarating chemistry they once shared. By prioritizing flirting, couples can continuously reinforce the passion that initially brought them together, warding off monotony or complacency.
4. Intriguing Mystery:
Flirting introduces an element of intrigue and mystery into a relationship. As partners use flirtation to express their desires, they also leave room for interpretation, allowing their significant other to piece together their intentions. This creates an atmosphere of uncertainty that keeps partners engaged and intrigued. The anticipation that flirty interactions bring can be magnetic, heightening the allure and excitement in the relationship.
5. Creating a positive atmosphere:
Flirting often involves humor and laughter, which can create a positive and enjoyable atmosphere in the relationship. This helps in reducing stress, boosting happiness, and creating shared positive experiences.
While often overlooked or disregarded as a relationship progresses, flirting plays a vital role in strengthening and reinvigorating the bonds between romantic partners. It fosters intimacy, promotes genuine communication, reignites passion, and introduces a tantalizing sense of mystery and excitement. Understanding the importance of flirting in a formal relationship allows couples to navigate the complexities of maintaining a vibrant and lasting connection. So, embrace the playfulness and spontaneity of flirting, keeping the spark alive as an indispensable component of your successful relationship.
***
We are excited to offer you tax free shopping on our entire selection of adult sex toys and sex accessories and fast and discreet shipping across the United States and Canada.  We understand the importance of discretion and offer a seamless shopping experience.  Have questions about your pleasure purchase? We'd be delighted to assist you.  You can contact us here.