Blog
Unlocking the Power of Couples Therapy: Nurturing Relationship Health ❣️
Jul 27, 2023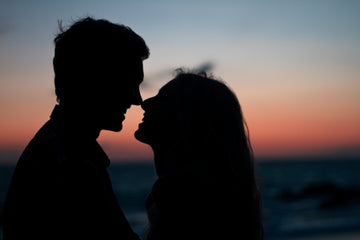 It's 2023 and therapy is sexy.  We are not born relationship gurus and we could all do with some help along the way and by help, the best kind would be an impartial professional! 
Did you know, the most frequently asked question on the dating app Bumble in 2022 was, 'do you see a therapist?' Everyone is catching on. 
Some people think that therapy is a sign of weakness when in actual fact it should be seen as a sign of strength. We are so close to ourselves and sometimes (mostly) don't notice our toxic patterns or we take advice from people who may not provide the best or most fair advice or we don't talk to anyone and end up bottling up anger and resentment and then become bitter and angry with the world.  The age old saying 'man up' puts so much pressure on boys and men not to express their feelings is toxic masculinity.  That is not where we want to be.  Remember… it's 2023 and therapy is sexy!!! Emotions or showing emotions are not weakness, it's a sign that you care, that you are connected to your emotions.  Asking someone for help (a partner, a therapist) through a problem, is not a sign of weakness, it's a sign of strength.  Lean into vulnerability!  
This goes without saying but in our intimate relationships, the only people we should be talking about our relationship with is our therapist or our partner.  No good can come from talking to outside parties.  The strongest relationships are the couples who keep their relationship private!! 🔐  Through therapy and into our intimate relationships, we should all be working on ourselves and bringing our best to the relationship.  It's a hard truth to face and sometimes we don't want to admit it but friends, family, people we've known forever sometimes don't give the best advice, are biased or they're invested in seeing the relationship fail for their own selfish and insecure reasons.
Being confronted and challenged by a partner or a therapist is a good thing. In fact, it's the greatest thing. It demonstrates that there is deep underlying love and that healing is necessary.  Confronting our flaws isn't easy on the ego but it's necessary to grow emotionally and mentally. Dealing with past trauma, hurt, shame, neglect, fear are necessary for us to turn up in our relationship wholly. We need to trade survival emotions for elevated emotions of love, empathy, kindness, compassion, forgiveness and look at life through the lens of love.  Knowing who we are and being confident in who we are and when we listen and trust ourselves rather than outside chatter and gossip we can build trust within ourselves and in our intimate relationships.
Couples Therapy, a professional intervention aimed at revitalizing and enhancing romantic relationships, often conjures images of a last resort measure to salvage a floundering partnership. However, at its essence, couples therapy serves a much broader purpose – it fosters open communication, understanding, and mutual growth, regardless of the current state of the relationship. Let's delve in discover the vital importance and numerous benefits derived from engaging in couples therapy. It is a proactive and constructive step towards nurturing healthy, thriving relationships.
1. Strengthens Communication and Emotional Connection:
Effective communication forms the backbone of any successful relationship. Couples therapy provides a structured environment in which partners can hone their communication skills and learn to express their thoughts and emotions more authentically. Therapists facilitate both partners in understanding each other's needs, feelings, and perspectives. By creating a safe space for expression, couples therapy fosters emotional intimacy, strengthens emotional bonds, and reignites the spark between partners.
2. Resolving Conflict:
Conflict is an inevitable part of any relationship. It's true, conflict is 100% necessary in relationships.  It's not you and your partner against each other, it's you and your partner dealing with an issue (remember, you're a team!). Couples therapy offers a constructive platform to address conflicts effectively and safely. Therapists guide couples in exploring the underlying causes of conflicts, helping them recognize their triggers, and offering healthy strategies for resolution. By learning constructive methods of managing conflicts, partners develop problem-solving skills and patterns that can strengthen bonds and promote personal growth.
3. Enhances Intimacy:
Over time, relationships can experience waning intimacy due to various factors such as stress, life changes, or miscommunication. Couples therapy provides a nurturing space for couples to rediscover the significance of intimacy in their relationship. As partners improve their ability to communicate and connect emotionally, they can revitalize romantic and sexual bonds. Therapists may introduce exercises, role-play, or offer guidance on intimacy-building techniques tailored to their specific needs, reigniting passion in their relationship.
4. Promotes Individual Growth:
Couples therapy encompasses not only the relationship itself, but also the personal growth of each individual within it. Therapists assist partners in reflecting upon their own behaviors, underlying patterns, and emotional needs, aiding in personal development. By encouraging self-awareness, couples therapy helps individuals enhance their self-esteem, identify areas of personal growth, and foster a healthy sense of self in the context of the relationship.
5. Preemptive Maintenance:
Couples therapy does not solely address relationships in crisis; it also plays a crucial role in relationship maintenance and prevention. Engaging in regular check-ins with a therapist can help couples identify small issues before they escalate into major problems. It allows couples to proactively fine-tune their communication, address any emerging concerns, and maintain a strong and thriving partnership.
Couples therapy, with its emphasis on effective communication, conflict resolution, emotional connection, and personal growth, serves as an invaluable resource for anyone invested in cultivating a loving and lasting partnership. It offers benefits far beyond relationship repair and extends to preventive measures, promoting healthier and more rewarding connections. By recognizing the value of couples therapy and embracing the professional guidance it offers, couples can unlock the power to nurture and preserve their relationship, fostering a foundation of love, understanding, and mutual growth.
***
We are excited to offer you tax free shopping on our entire selection of adult sex toys and sex accessories and fast and discreet shipping across the United States and Canada.  Use code: therealmeghulme at checkout to receive 15% off your order!  We understand the importance of discretion and offer a seamless shopping experience.  Have questions about your pleasure purchase? We'd be delighted to assist you.  You can contact us here.