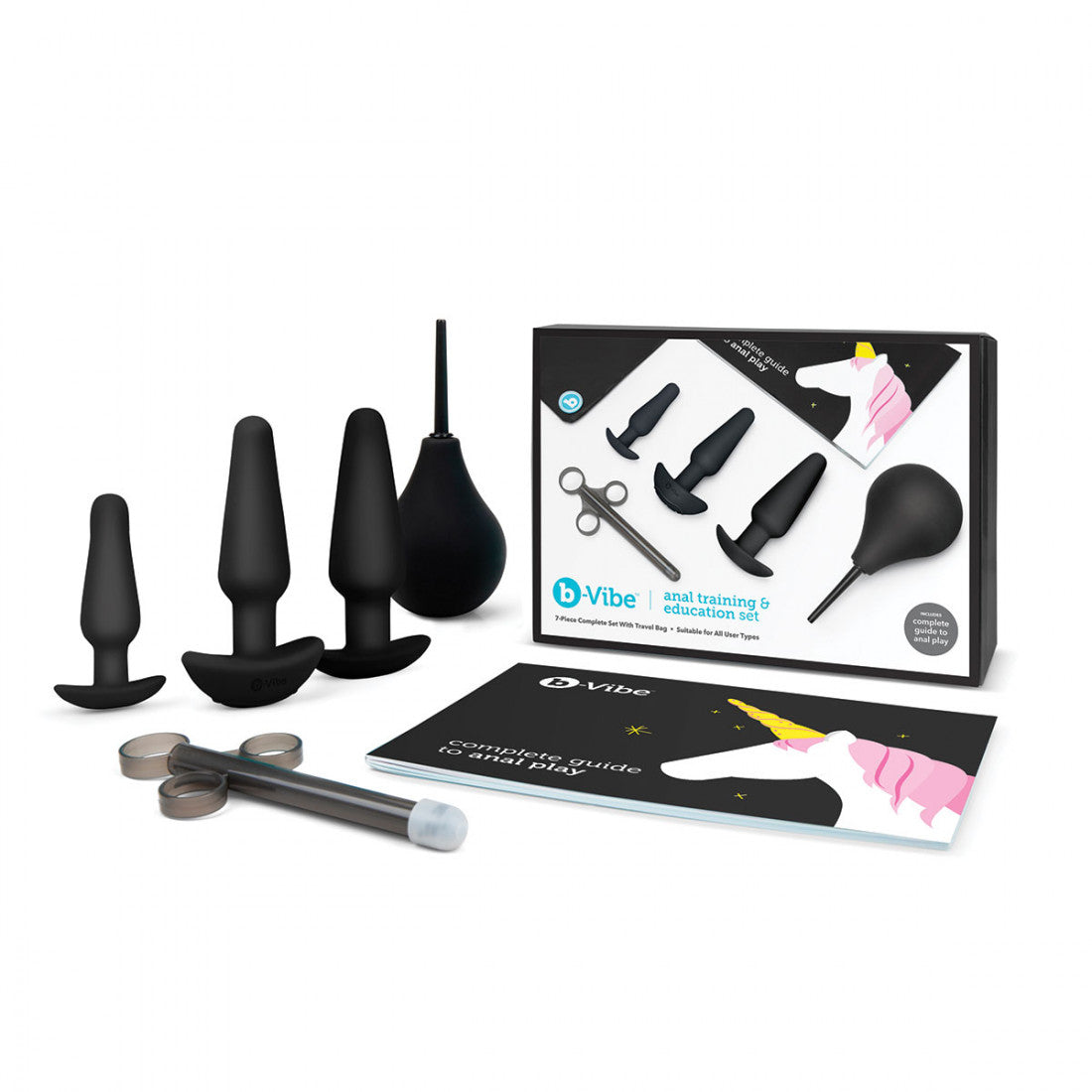 Sale price
$165.00
Regular price
Ranging from small to large, the b-Vibe anal training kit comes with three basic silicone butt plugs that are designed for all stages of anal training. The silicone butt plugs are made from 100% body-safe silicone. The narrow rounded tips allow for a comfortable insertion, and the silky-smooth material provides zero discomfort when worn for extended periods. If an anal play goal is to insert a toy or penis, start off with fingers and then beginning with the smallest plug, followed by the next size, etc.
1. Small Silicone Butt Plug — Designed to look and feel like a finger, the smallest plug in this anal training kit is slim enough for first-time anal play.
2. Medium Vibrating Butt Plug — Once you start feeling comfortable with how the small butt plug feels, add another sensation to the mix: vibration. Use vibration to stimulate the prostate or G-spot. Vibration also helps the sphincter muscles to relax- which is exactly what one wants during anal play.
3. Large Weighted Butt Plug — The two weighted balls (180g) inside this non-vibrating plug will help create a sensual feeling of fullness. Pro tip: Plugs are a great toy for public play, which has the added bonus of feeling forbidden or secretive.
4. Lubricant Applicator — This little gadget is one of those hard to reach places.
5. Anal Enema — No anal training kit would be complete without an enema. Consider it as the perfect go-to for a 'deep' clean before anal play.
6. Zipper Travel Bag — Needed to carry the training Set
7. Complete Guide to Anal Play —Every purchase includes a 50+ page handbook of the most comprehensive how-to guides on anal play, written by certified sex educators.
Specifications

Features 

Waterproof

Materials 

Body-safe Silicone

What's included

Storage Case, Classic Enema Bulb, Lubricant Applicator, Complete Guide to Anal Play, Small Silicone Plug, Medium Vibrating Rechargeable Plug and a Large Weighted Plug. 




Plug Specifications: 

Small Body Safe Silicone 98 x 26 x 50 mm

Medium Body Safe Silicone 134 x 32 x 68 mm

Large Body Safe Silicone 137 x 40 x 71.5 mm

Warranty 

1 Year 

Manufacturer

B-Vibe
Estimated Delivery:Dec 16 - Dec 20
B-Vibe Anal Training Set
Sale price
$165.00
Regular price