Blog
Emotional Intimacy: Fostering Deeper Connections
Jul 05, 2023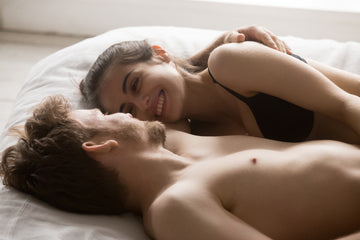 In a fast-paced world consumed by technological advancements and superficial interactions, the significance of emotional intimacy often gets overshadowed. Defined as the profound sense of being deeply understood, emotionally intimate connections bring about a remarkable depth and authenticity in our relationships. Today we will explore the essence and significance of emotional intimacy, shedding light on its vital role in fostering genuine connections.
At its core, emotional intimacy transcends the confines of shared experiences or common interests. It delves into the realms of trust, vulnerability, and boundless empathy, enabling individuals to form a deeper understanding and an unbreakable bond. While physical intimacy may provide momentary pleasure, emotional intimacy weaves together the intricate threads of trust and companionship, ensuring enduring relationships.
Genuine emotional intimacy often requires time and effort to cultivate. It necessitates a dedication to open and honest communication, enabling individuals to express their feelings, fears, and desires without fear of judgment or rejection. Through active listening, empathetic responses, and non-judgmental attitudes, emotional intimacy flourishes, creating spaces where individuals feel safe and valued.
To foster emotional intimacy, it is essential to prioritize non-verbal cues and subtle gestures. Simple acts of kindness and attentive body language can speak volumes, solidifying emotional connections between individuals. By demonstrating genuine interest, displaying empathy, and offering unwavering support, emotional intimacy becomes an attainable reality.
Emotional intimacy is not limited to romantic relationships alone. It extends its impact to friendships, family dynamics, and professional collaborations. By embracing emotional intimacy in all facets of life, one can cultivate rich, meaningful connections that transcend the superficial and mundane, leading to a greater sense of fulfillment.
Emotional intimacy is crucial in a relationship because it fosters a strong sense of closeness and connection. It creates a secure and trusting bond between partners, enabling them to build a foundation of love, respect, and understanding. A couple of reasons why emotional intimacy is so important include:
1. Trust: Emotional intimacy requires vulnerability and sharing personal experiences. When partners open up and trust one another with their deepest emotions, it strengthens the trust in their relationship.
2. Communication: Emotional intimacy promotes open and honest communication. Partners who are emotionally intimate are more likely to express their needs, desires, and concerns effectively, leading to better understanding and problem-solving within the relationship.
3. Support: In an emotionally intimate relationship, partners provide support and validation to one another. They feel safe to share their struggles, fears, and triumphs, knowing that their partner will listen, empathize, and offer comfort.
4. Connection: Emotional intimacy enhances the emotional connection between partners. It promotes feelings of love, closeness, and belonging, leading to a richer and more fulfilling relationship.
5. Resilience: Emotional intimacy acts as a buffer during challenging times. When partners are emotionally connected, they have a strong support system to navigate through conflicts, stress, and setbacks together, ultimately strengthening their bond.
6. Satisfaction: Emotional intimacy is often closely linked to overall relationship satisfaction. Partners who experience emotional closeness tend to report higher levels of happiness, contentment, and fulfillment in their relationship.
While the benefits of emotional intimacy are abundant, it is crucial to acknowledge the barriers that can hinder its development. Past experiences, emotional trauma, and fear of vulnerability may impede progress in this realm. However, by prioritizing personal growth, self-reflection, and seeking professional assistance when required, individuals can proactively navigate these obstacles and nurture the emotional intimacy they seek.
In essence, emotional intimacy remains a cherished facet of human relationships, capable of transforming lives and bringing profound joy. By investing time and effort, embracing vulnerability, and fostering open communication, we can establish meaningful connections that withstand the test of time. So, let us embark on this journey together, cherishing and embracing the immense power of emotional intimacy to shape our lives for the better.
***
We are so excited to offer you tax free shopping on our entire selection of adult pleasures and fast and discreet shipping across the United States and Canada.  We understand the importance of discretion and offer a seamless shopping experience.