Blog
Enhancing Intimacy: Exploring Shower Sex and the Role of Sex Toys
Jul 04, 2023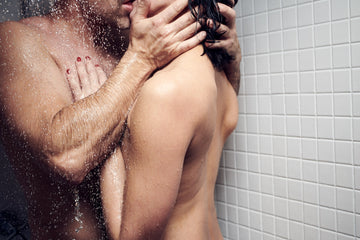 In today's rapidly evolving society, discovering new ways to keep the flame of intimacy alive has become a priority for many couples. Among the variety of options available, exploring the exhilarating realm of shower sex and incorporating sex toys can nourish both physical and emotional connections. Today we will delve into the allure of shower sex, shed light on its benefits, and explore how sex toys can elevate these intimate encounters.
Shower Sex: An Enthralling Experience
1. Spontaneity: Shower sex offers an element of surprise and spontaneity. It presents an opportunity to break away from the monotony of the bedroom and explore a new, exotic environment with your partner.
2. Sensual Stimulation: The sensory experience of warm water cascading over your bodies can enhance pleasure and intensify sensations. The combination of touch and water can create a uniquely arousing experience, amplifying intimacy between partners.
3. Increased intimacy and trust: Engaging in shower sex requires a certain level of trust and communication. Sharing this vulnerable and intimate experience strengthens the emotional bond between partners, fostering trust and intimacy.
4. Physical challenges: It's important to be mindful of the potential challenges of shower sex, including limited space and slippery surfaces. Strategically positioning yourselves and using safety measures, such as added grips or non-slip mats, can help ensure a safe encounter.
Sex Toys: Elevating Pleasure and Exploration
1. Expanding Sensual Horizons: Incorporating carefully selected sex toys can introduce a new dimension of pleasure and exploration into your intimate encounters. From vibrators to couples' toys, these devices can help reignite passion and enhance sensations for both partners.
2. Communication and consent: Before introducing sex toys into your sexual routine, open and honest communication with your partner is essential. Discussing boundaries, desires, and preferences ensures a consensual and enjoyable experience that aligns with both partners' comfort levels.
3. Experimentation and variety: The world of sex toys offers a vast array of options, catering to different preferences and interests. Whether exploring clitoral stimulation, G-spot pleasure, or couples' toys designed for simultaneous enjoyment, these tools provide ample opportunities for experimentation and discovering new paths to mutual satisfaction.
4. Enhancing intimacy and connection: Sex toys can act as catalysts for conversations surrounding desires and fantasies. By incorporating them into your routine, you can deepen the level of intimacy and connection with your partner, building a stronger foundation for your relationship.
Shower sex and the inclusion of sex toys can bring newfound excitement, pleasure, and intimacy to your relationship. While shower sex stimulates the senses and adds an adventurous element, sex toys provide an avenue for exploration and discovery. Remember, communication, consent, and mutual comfort are paramount in ensuring that these experiences become positive contributors to your intimate connection. Embrace the journey of discovering new avenues for pleasure and grow together on your voyage of sexual exploration.
Our top 3 sex toy recommendations are: 
We-Vibe Sync - The We-Vibe Sync Lite couples vibrator provides a whole new level of pleasure. This smooth silicone couples pleasure toy is designed to enhance intimacy and intensify shared pleasure. With its unmatched design, the Sync Lite vibrator offers couples an exciting and comfortable experience. 
LELO Loki - Prostate Massager - Beautifully redesigned to offer more flexibility and with two powerful motors, this device is a dream come true for those looking to experience longer-lasting and more intense orgasms. Use it solo or with a partner to unlock new orgasmic secrets using more pleasure settings for unmatched finger-like prostate play.
Love To Love - Sassy Bunny Vibrator - New to the market!  Performance meets expectations, sensations are unique and the colours are gorgeous.  The Love to Love Sassy Bunny Vibrator is designed to deliver maximum pleasure with its high performance rabbit vibrator. It has intense twofold stimulation with thrusting technology for g-spot pleasure and tapping technology for clitoral pleasure. Say goodbye to unsatisfying vibrations and hello to maximum bliss.
***
We are so excited to offer you tax free shopping on our entire selection of adult pleasures.  We understand the importance of discretion and offer a seamless shopping experience with guaranteed privacy and fast shipping in the United States and Canada.