Blog
The Art of Edging: Unleashing the Pinnacle of Personal Satisfaction
Jul 03, 2023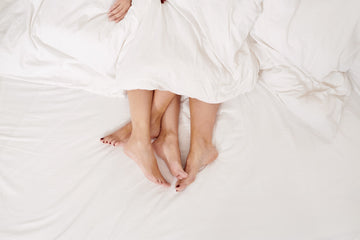 In the world of human sexuality, there exists a spectrum of desires and practices that explore the depths of pleasure. One such technique that has piqued the curiosity of many individuals is known as "edging." Far more than a mere fleeting term, edging encapsulates an artful approach to enhancing sexual experiences. Today we aim to decode the essence of edging, shedding light on its various aspects and offering insight into its potential benefits and techniques.
Understanding Edging:
Edging is a methodology that entails deliberately prolonging sexual stimulation while approaching the brink of orgasm but then pausing or decreasing intensity before reaching climax. Often referred to as "orgasm control" or "peaking," this technique allows individuals to build and intensify their sexual pleasure over an extended period. By repeatedly bringing themselves close to the edge and then easing off, enthusiasts claim to achieve heightened sensations and more satisfying climaxes. 
Benefits of Edging: 
1. Enhanced Sensitivity: By periodically withholding orgasm, edging can amplify one's sensitivity to touch, leading to heightened sensations and an increased capacity to experience pleasure.
2. Increased Stamina and Control: Edging can assist individuals in developing greater control over their sexual responses, helping them last longer and gain a deeper understanding of their personal thresholds of pleasure.
3. Intensified Orgasms: Regular practice of edging is purported to contribute to more intense and pleasurable climaxes. By teasing the body and building anticipation, the release that follows may be experienced as more gratifying.
Techniques and Approaches:
1. Solo Edging: Individuals can explore edging techniques on their own, using various methods like manual stimulation or the aid of adult toys. Experimenting with different sensations and applying pressure techniques can help prolong pleasure and heighten overall arousal.
2. Partner-Based Edging: Edging can also be integrated with a partner, bringing added intimacy and shared exploration into the equation. Communication and consent are paramount in this context, as both partners collaborate to bring each other to the edge before temporarily withdrawing or altering stimulation.
3. Delayed Gratification: In an edging session, delaying orgasm until the very end can intensify the final release. Gradually ramping up the intensity and duration of stimulation can be central to achieving this delayed gratification.
4. Edging and sex toys: This technique involves the careful manipulation of arousal levels, achieved through a variety of methods, including the incorporation of sex toys. Sex toys, specifically designed to enhance erotic experiences, can be employed during edging to intensify sensations and prolong the pleasurable journey towards climax. These devices cater to a diverse range of desires and preferences, offering an array of options such as vibrators, dildos, anal plugs, and more. When used thoughtfully and responsibly, sex toys can play a valuable role in achieving heightened sensations and augmenting the overall pleasure derived from edging.
In the realm of human sexuality, edging represents an enticing approach to pleasure that allows individuals to embark on a journey of self-exploration, heightened sensations, and intensified orgasms. While respecting personal boundaries and preferences, adopting edging techniques can lead to enriched sexual experiences, increased control, and an expanded understanding of one's own sexual responses. With patience, communication, and an open mind, edging can undoubtedly be an avenue worth exploring for those seeking to unlock the pinnacle of personal satisfaction.
***
We are so excited to offer you tax free shopping on our entire selection of adult pleasures.  We understand the importance of discretion and offer a seamless shopping experience with guaranteed privacy and fast shipping in the United States and Canada.