Blog
How to Create a Strong Foundation for Your Relationship
Jun 21, 2023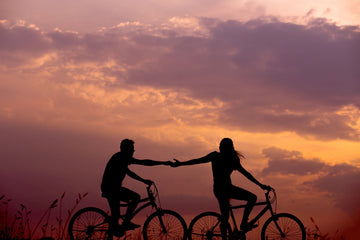 As humans, we crave connection and companionship and relationships, whether romantic or platonic, bring joy and fulfilment to our lives. However, in order for a relationship to thrive, it requires a strong foundation built on respect, friendship, and trust.
Respect is the cornerstone of any healthy relationship. It means acknowledging and valuing the other person's opinions, feelings, and needs. Respect is shown through active listening, open communication, and a willingness to compromise. Without mutual respect, a relationship can quickly deteriorate into one of resentment and frustration.
Friendship is another vital element of a strong foundation. Your partner should be someone you enjoy spending time with and who you have fun with. A good friendship means being there for each other, supporting each other through ups and downs, prioritizing your partner and enjoying each other's company in the mundane day-to-day which coincidentally when you look back at it are the big little things. Building a foundation of friendship in a relationship also creates a sense of comfort and safety, which can help the partnership weather any challenges that may arise. When 2 people in a relationship feel safe to express how they feel, they are able to navigate stormy seas.  As we'll later dive into, open, honest, kind communication without negative repercussions is absolutely essential for a healthy relationship and healthy sex life (communication is lubrication).
Finally, trust is essential for a healthy relationship. It means feeling secure in the knowledge that your partner or friend is honest, faithful, supports you and has your back in challenging situations, essentially they advocate for you!  Trust is developed over time, through consistent actions and (unsurprisingly) communication. It is important to be honest with yourself, and to communicate openly with your partner if there are any areas of concern and for your partner to feel the same safety to communicate with you how they feel and what they need without negative repercussions.  Without trust, a relationship can become unstable and fraught with anxiety.  Intimately you can work on your differences, you don't have to agree on everything but there does without a doubt need to be genuine mutual support for each other. 
Creating a strong foundation for a relationship with respect, friendship, and trust is crucial for its longevity and happiness. By actively building these elements and prioritizing their importance, you can cultivate a deep and meaningful connection with your partner.
It's our job to speak up in our relationships with our partner (and only your partner or Therapist) on issues which we need to work through.  Our partners are not mind readers and neither are we.  How we communicate and how our partner receives the feedback or bid for connection is essential to building a relationship.  Remember what our friend Dr. Emily Morse says, communication is lubrication. 
So you are asking, what is a bid for connection? Well, in a relationship, a bid for connection is a fundamental aspect of maintaining mutual trust and understanding between partners. These bids refer to any attempt made by one partner to initiate communication, seek emotional support, or show affection towards the other. Responding positively to such bids plays a vital role in strengthening the emotional bond between the partners, while ignoring or rejecting them can damage it. Therefore, it is essential to be mindful of the bids for connection made by our partner and respond to them in a meaningful way to nourish a healthy and fulfilling relationship.
Tune in for our next blog on communication in relationships!  It's knowledge week! 
***
We invite you to shop our selection of adult pleasures that are designed to bring optimal pleasure and satisfaction to solo or partnered intimate experience. From indulgent toys to intimate accessories, our boutique's products are carefully curated to cater to every aspect of your sexual desires. We understand the importance of discretion and offer a seamless shopping experience with guaranteed privacy. Our commitment to providing only the best products and exceptional customer service makes shopping with us an unparalleled experience. 
Use the coupon 'Pride2023' for the entire month of June for all your purchases and receive 15% off!  Free shipping on all orders $45+ across the United States and Canada.  
We have something cooking and cannot wait to share our big news with you. In the mean time, thanks for supporting us on this pleasure journey and if you have questions please don't hesitate to reach out and we'd be happy to assist with your pleasure purchase.