Blog
Why Do Bids For Connection Matter For Sexual Intimacy?
Jun 23, 2023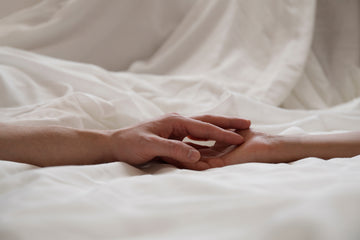 So we all know that relationships can be challenging, especially when it comes to sexual intimacy. While some couples manage to maintain a vibrant and fulfilling sex life, others find themselves struggling to connect on an intimate level. But what causes this divide? One answer might surprise you – bids for connection.  The Gottman Institute have a number of excellent articles relating to recognizing bids for connection, how to make a bid for connection and bids of connection and trust.  
Bids for connection are the little things we do to reach out to our partner and connect with them on an emotional level. It can be as simple as asking how their day was or sharing something funny that happened to us. These small gestures may seem insignificant, but they hold immense importance in any relationship, especially when it comes to sexual intimacy.
When we make bids for connection, we are expressing our vulnerability to our partner. We are allowing them to see us as we truly are – imperfect, flawed, and human. By doing so, we are creating an environment that is safe and conducive to intimacy.
When it comes to sexual intimacy, bids for connection are even more crucial. Sex is not just about the physical act; it's about emotional connection and vulnerability. When we feel disconnected from our partner, it can be difficult to enjoy sex or even want to engage in it.
In contrast, when we make bids for connection, we are building a foundation of trust and safety that allows us to feel comfortable and confident with our partner. We are opening ourselves up to the possibility of deeper intimacy and a more fulfilling sex life.
So, what can you do to make bids for connection in your relationship?
Start small – it's not always necessary to do grand gestures to connect with your partner. Sometimes, a simple hug or a compliment can do the trick.
Be present – when your partner is talking to you, give them your full attention. Listen actively and respond with empathy.
Initiate physical touch – hold hands, cuddle, or give your partner a massage. Physical touch can be a powerful way to communicate love and connection.
Talk. Communication is key.  Open up and speak.  Lean into vulnerability.  Nothing can be achieved bottling up emotions and thoughts.  Speak to your partner.  Reconnect.  Connect.  
Making bids for connection may seem like a small step, but it can have a significant impact on the quality of your relationship and your sex life. Remember that intimacy is built on a foundation of trust, vulnerability, and emotional connection. So, take the time to make those small gestures and let your partner know that you are there for them, and you are willing to open yourself up to deeper intimacy and more fulfilling sex.
***
We are so excited to invite you to shop our selection of adult pleasures absolutely tax free!  We all need to catch a break and this break for all of our customers is tax free pleasure!  We understand the importance of discretion and offer a seamless shopping experience with guaranteed privacy. Our commitment to providing only the best products and exceptional customer service makes shopping with us an unparalleled experience. 
Use the coupon 'Pride2023' for the entire month of June for all your purchases and receive 15% off!  Free shipping on all orders $45+ across the United States and Canada.  
We have something cooking and cannot wait to share our big news with you. In the mean time, thanks for supporting us on this pleasure journey and if you have questions please don't hesitate to reach out and we'd be happy to assist with your pleasure purchase.