Blog
Masturbation Monday - Our Fave Toys For Solo Play
Nov 13, 2023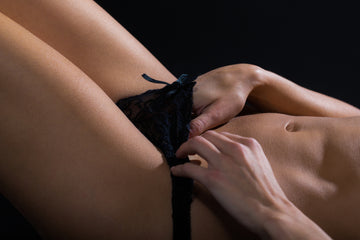 The benefits of masturbation?
Reduces stress
'When you climax your brain releases feel-good chemicals, such as oxytocin and serotonin, which reduce stress and lift your mood.'
Hormones released during masturbation include:
Oxytocin: the "love hormone," is a neurotransmitter released during orgasm, which has stress-relieving properties. One of oxytocin's functions is bringing about feelings of greater connectivity and increasing pro-social behavior. Research has also found that oxytocin can alleviate stress and anxiety, and also helps individuals better process negative emotional stimuli.
Serotonin: Another chemical released during masturbation is serotonin, a neurotransmitter that can help improve mood.
Endocannabinoids: Masturbation can increase levels of endocannabinoids. These are hormones that bind to cannabinoid receptors just like the chemicals in cannabis do, and are responsible for maintaining homeostasis within the body. Research on endocannabinoids is still emerging, but these compounds have been found to play a role in reducing anxiety, regulating emotional behavior, and supporting cognition.
Aids better sleep
Orgasms help to produce the sleep-inducing hormone prolactin.
Higher libido
Sexual activity boosts natural levels of lubrication, and increases blood flow to the genitals to improve vaginal elasticity.
Masturbation Can Help Women Achieve Orgasm
Another study found that women who masturbated had greater ease of reaching sexual arousal and orgasm. 
Better bladder control
A weakened bladder control happens when the Pubococcygeus muscles weaken, but orgasming contracts those muscles, helping to strengthen them.
Improved performance
Masturbation can make you a better lover by having control over your orgasm. You'll learn your stimulation preferences, which you can communicate with your partner, to boost your chances of climax.
Sexual confidence
The more familiar you are with your preferences, the more comfortable you'll be sharing yourself with another.
Shop some of our fave and most popular masturbation pleasure toys here: 
Be immersed in an ecstasy of gold for two with the exquisite wearable Tiani 24K.

Worn vaginally while making love, this award-winning design features a decadent ring of 24 karat gold, marking it out as the most luxurious remote-controlled couples' massager in the world today. With 8 stimulation modes - two controlled via movement alone - the dual motors, one for internal stimulation and the other for external, deliver a fusion of luxury and pleasure that only gets stronger with time.

Hold Tight.

The male penis sleeve, Voy by Arcwave is a premium compact stroker featuring superior material and custom fit. Voy was created for the modern sex-toy user who seeks new sensations and pleasure innovation. Research reveals that Merkel-Ranvier receptors in the skin of the penis respond particularly well to pressure - a finding that other sex toys ignored. Voy utilizes this science to stimulate these receptors with its unique Tightness Adjustment System (TAS), creating the perfect fit for every body. 

NEO Sensual Tingle Clitoral Stimulating Glide is uniquely formulated to excite and tingle the clitoris. With an invigorating combination of peppermint and two powerful vasodilators, this product increases blood flow to stimulate intense sexual pleasure. Enjoy the heightened sensations and greater intimacy with NEO Sensual Tingle.

Embark on a luxurious journey of intense pleasure with LELO's Pleasure Enhancing Serum. Featuring L-arginine as its main component, this pleasure gel amplifies your sensations, unlocking a whole new world of powerful and enduring orgasms. 

 

Experience the timeless elegance of the Le Wand Plug-In OG wand. Indulge in the powerful and award-winning OG wand vibrations, with the added convenience of a corded design. Immerse yourself in a world of endless massage possibilities and ultimate relaxation.

 
***
Beat the holiday stress and masturbate - solo or partnered up!  Explore our vast selection of pleasure toys at our online store that'll bring some festive cheer whether you're playing solo or with a partner!  With a wide range of luxury products available, from sensual massage oils to premium pleasure toys, our sale offers the perfect opportunity to elevate your bedroom experiences at unbeatable prices. Whether you're looking to treat yourself to some solo indulgence or to spice up your intimate moments with a partner, our sale has something for everyone.
Stocks are limited and demand is high. Don't miss out on the chance to explore new sensations and enhance your pleasure with our Black Friday sale. Take advantage of our discounted prices and shop with confidence, knowing that all of our products are designed with quality and satisfaction in mind. Use code: 'BlackFridaySale23' at checkout.
Shop 100% tax free while stocks last plus enjoy fast and discreet shipping across the United States and Canada.