Blog
Why Do We Have Sexual Fantasies
Jun 17, 2023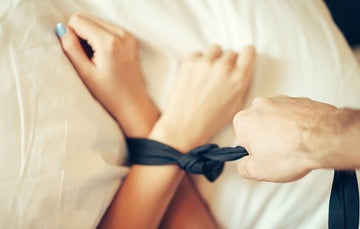 First of all.... sexual fantasies are so normal!!!! We cannot stress this enough!  
The nature of sexual fantasies is that they push the boundaries a bit, stir up your usual mix, and allow you to explore the depth of your desires. And however deeply buried you keep those fantasies in your brain, they're nothing to be ashamed of. For some of us using our imagination is an integral aspect of sex. 
Sexual fantasies are a common and natural aspect of human sexuality. While many people may feel embarrassed or ashamed of their fantasies, it is important to understand that they are a normal and healthy way of exploring your sexuality. Sexual fantasies are often a way for us to escape reality and explore our deepest desires and fantasies, without any consequences.
There are many different reasons why we have sexual fantasies. For some of us, it may be a way of exploring different aspects of our sexuality without actually engaging in sexual activity. For others, it may be a way of fulfilling unmet needs or desires. Sexual fantasies can also be a way of exploring power dynamics, role-playing, or experiencing something new or different.
It is also important for us to mention that sexual fantasies do not always reflect our true desires or intentions. Just because we may fantasise about a certain person, situation, or act, does not necessarily mean that we wish to act on those thoughts in real life... or maybe we do.... Let's see.... maybe Bradley Cooper and I in an elevator will happen... [manifesting] LOL.... 
Back on topic, sexual fantasies are a normal and healthy aspect of our human sexuality. It is important for us to understand and accept our fantasies without judgment or shame. By exploring our deepest desires through sexual fantasies, we can better understand ourselves and our sexuality.
Tune in for our next blog on the top 5 sexual fantasies of 2023 in North America.
***
We invite you to shop our selection of adult pleasures that are designed to bring optimal pleasure and satisfaction to solo or partnered intimate experience. From indulgent toys to intimate accessories, our boutique's products are carefully curated to cater to every aspect of your sexual desires. We understand the importance of discretion and offer a seamless shopping experience with guaranteed privacy. Our commitment to providing only the best products and exceptional customer service makes shopping with us an unparalleled experience. 
Use the coupon 'Pride2023' for the entire month of June for all your purchases and receive 15% off!  Free shipping on all orders $45+ across the United States and Canada.  
We have something cooking and cannot wait to share our big news with you. In the mean time, thanks for supporting us on this pleasure journey and if you have questions please don't hesitate to reach out and we'd be happy to assist with your pleasure purchase.