Blog
Top Tips For Anal August 
Aug 07, 2023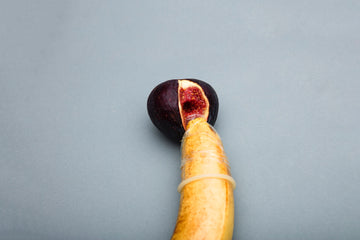 The truth is you're not always in the mood for anal play and sometimes your body is not in the mood for anal play.  
Hygiene, prep and communication are key to embarking on anal play exploration and guess what… it's hotter with more arousal in body and mind! 
Anal sex can be overwhelming so it's important to prep. Education is key.  There are plenty of educational resources out there and we encourage you to research the different sex toys available for this particular type of play, last but certainly not least, consider the questions you might have for your partner.  Write down your fears, expectations, needs and desires.
Here are some of our top tips (more to come throughout the month of August) for your anal play exploration:
Relax your mind and your body!
If this is your first time trying anal sex, spend some time relaxing—take a hot bath, ask your partner to give you a sensual massage, heck, you can even meditate. To prepare for anal sex, you can also focus on specifically relaxing the muscles of your anal sphincter. To see what that feels like, tighten your butt muscles—kind of like a Kegel for the other end—and then release.
Communication!
Figuring out how to do anal sex with your partner starts with communication. As with all types of sexual activity, anal sex is something that should be discussed beforehand. Remember, communication is lubrication! Communicate your fears and expectations with your partner, and make sure that you are both on the same page about things like speed, depth, etc. Trust me, this is one area in which you do not want any surprises.
Establish boundaries.
Throughout the experience, it is your job to pay attention to what you are feeling, and communicate this to your partner. If something feels uncomfortable or painful, let them know. You may choose to establish a safeword to let your partner know you're not comfortable moving forward or that you want to move a little slower.
Lather up. 
This is REALLY important. The key to really enjoying anal sex?  Lube, lube and more lube!  The anus is not self-lubricating.  The more lube you use, the more comfortable and enjoyable anal sex can beIf you're using sex toys, we recommend EXTRA water based sex lube.  If you're not using silicone sex toys, we recommend a silicone based sex lube.
Assume the position.
For first-time anal sex, the receiver (a.k.a. whichever partner is being penetrated) should be the one to control the depth and speed of penetration.  For first-timer-friendly sex posiitons, we recommend on one's back at the edge of the bed, partner standing between one's legs, and either holding behind your knees or putting your legs on your partner's shoulders and moving into them.  This allows the pelvic floor to be very relaxed and open. Spooning is also a great position and you can move back into the penis or dildo rather than them moving into you.
Take it slow!
Anal sex is NOT quickie session, most certainly not if you're new to this play.  No matter how much lube you use, your backdoor is not a water slide. First-time anal sex should be approached like getting into a really hot bath tub. First, you test the waters during foreplay, allowing your partner to gently rub around the opening with their finger, before experimenting with actually inserting anything. Whether you're using a penis, a finger, or a toy, start slowly with just the tip before inserting anything any deeper.
Try a Sex Toy
Using anal sex toys like a small dildo, anal plugs, or anal vibrators can be a great way to ease into things. The key here is to be gentle and communicate. If at any point things get too uncomfortable, speak up. Communication is LUBRICATION! We recommend starting out with an anal sex starter set and progressing to vibrating and glass plugs. Check out our selection of adult sex toys and sex accessories here and if you've got any questions please don't hesitate to reach out to us. 
Last but certainly not least, challenge shame!  Don't feel ashamed if you like anal sex or embarrassed if you don't.  Speak up.  Your body, your rules!  You do not have to answer to or explain yourself to anyone. 
Be safe.  Always obtain consent.  Happy exploration with Anal August! 
***
We are excited to offer you tax free shopping on our entire selection of adult sex toys and sex accessories and fast and discreet shipping across the United States and Canada.  Use code: 'analaugust' at checkout to receive 20% off your order!  We understand the importance of discretion and offer a seamless shopping experience.  Have questions about your pleasure purchase? We'd be delighted to assist you.  You can contact us here.