Blog
The Significance of a Strong Pelvic Floor for Men & Women
Aug 03, 2023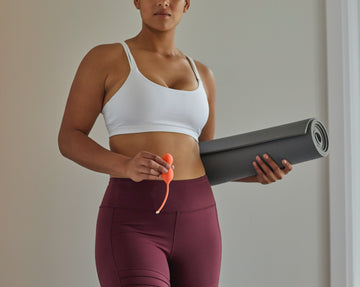 You know what they say.... May your coffee, pelvic floor, intuition and self-appreciation be strong!!!!
A robust and functional pelvic floor is crucial for maintaining optimal health and overall well-being. This intricate network of muscles, ligaments, and tissues plays a vital role in supporting the organs within the pelvic region and ensuring proper bodily function. Among the various techniques available to strengthen the pelvic floor, Kegel exercises stand out as a proven and effective method. In this blog, we will explore the importance of a strong pelvic floor and delve into the significance of incorporating Kegels into one's routine.
1. A Foundation of Support:
The pelvic floor, composed of muscles and connective tissues, acts as a foundation for the reproductive organs, bladder, and rectum. Maintaining a strong pelvic floor is essential for providing support and preventing the dreaded occurrences of organ prolapse and incontinence. By toning these muscles, individuals can positively impact their urinary and bowel control, while also safeguarding against potential complications such as bladder leakage.
2. Pregnancy and Postpartum Health:
Pregnancy places significant strain on the pelvic floor due to the weight of the growing baby and hormonal changes. The pelvic floor's resilience is further tested during childbirth, leading to weakened muscles, which can trigger a range of issues including urinary incontinence and reduced sexual satisfaction. Engaging in regular Kegel exercises during and after pregnancy can help strengthen the pelvic floor, minimize pain, and improve recovery post-delivery.
3. Enhanced Intimacy and Confidence:
A strong pelvic floor is closely connected to sexual satisfaction and intimacy. By practicing Kegels, individuals can improve their orgasmic potential and enhance the overall experience for both partners. Strengthening the pelvic floor muscles through regular exercises leads to increased blood flow and heightened muscle control in the pelvic region, ultimately fostering greater sexual confidence and pleasure.
4. Aging Gracefully:
As we age, the muscles in the pelvic floor naturally weaken, leading to potential complications and challenges. Incontinence, weakened bladder control, and organ prolapse become more prevalent concerns. By incorporating Kegel exercises into our routine from a young age, we can preserve the strength of our pelvic floor and alleviate some of these age-related issues. This proactive approach can significantly improve our quality of life as we enter our golden years.
5. Exercise and Sports:
A strong pelvic floor is vital for athletes of all levels. The muscles of the pelvic floor contribute to core stability, balance, and overall body control. Engaging in Kegel exercises as part of a consistent workout routine can enhance sports performance, reduce the risk of injury, and improve overall athletic capabilities. The added stability and control can particularly benefit activities such as weightlifting, running, or high-impact exercises.
The importance of a strong pelvic floor cannot be overstated. From supporting the organs in the pelvic region to ensuring optimal bladder control, a well-toned pelvic floor is key to overall well-being. Kegel exercises have proven to be a powerful tool in strengthening this vital group of muscles. By incorporating regular sessions of Kegels into our lives, we can effectively combat issues such as incontinence, improve sexual satisfaction, aid in postpartum recovery, and age gracefully. Investing time and effort in maintaining a strong pelvic floor is a proactive choice that offers remarkable benefits throughout one's life.
***
We are excited to offer you tax free shopping on our entire selection of adult sex toys and sex accessories and fast and discreet shipping across the United States and Canada.  Use code: 'analaugust' at checkout to receive 20% off your order!  We understand the importance of discretion and offer a seamless shopping experience.  Have questions about your pleasure purchase? We'd be delighted to assist you.  You can contact us here.