Blog
Unveiling the Pleasure: A Comparative View of Male and Female Orgasms
Aug 01, 2023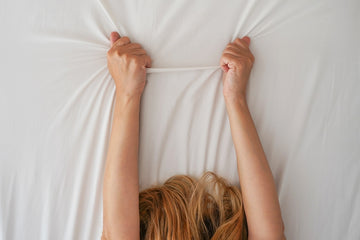 Sexual pleasure is an intrinsically human experience that has captivated our curiosity for centuries. While it remains a deeply personal and intimate encounter, the mechanics and sensations differ between males and females. Today we'll dive into fascinating world of male and female orgasms, shedding light on their fundamental differences, societal perceptions, and the significance of understanding these experiences in cultivating healthy sexual relationships.
1. Nature's Design:
In the realm of reproductive biology, sexual satisfaction plays a fundamental role, further driving our species' existence. Male orgasms are essential for procreation as they facilitate the release of sperm into the female reproductive tract. Contrarily, the female orgasm's reproductive function remains unclear, with no direct link to fertility observed. However, rather than viewing this as a discrepancy or imbalance, it is crucial to appreciate the diverse expressions of pleasure experienced by both sexes.
2. Physical Mechanisms:
The male orgasm is relatively more straightforward as it involves the release of semen through rhythmic contractions of the prostate gland and ejaculation. On the other hand, the female orgasm encompasses a broader range of physiological responses. It frequently involves rhythmic contractions of the pelvic floor muscles, accompanied by a sense of intense pleasure. Additionally, female orgasm often leads to various physiological changes such as an increased heart rate, blood flow, and even varying degrees of muscular contractions throughout the body.
3. Societal Perceptions:
Throughout history, male orgasms have often been celebrated while the female orgasm has been shrouded in mystery or even stigma and not prioritized. Numerous cultural factors influenced this disparity, including societal taboos, gender roles, and the patriarchal lens through which sexual pleasure has been historically examined. However, modern perspectives aim to bridge this knowledge gap, recognizing the importance of equal sexual satisfaction and the fulfillment of both partners' desires. Closing the orgasm gap. 
4. Emotional and Psychological Aspects:
Beyond the physical act, orgasms are also deeply connected to emotional and psychological experiences. While exaggerated stereotypes portray male orgasms as simpler and more straightforward, it is essential to acknowledge the wide spectrum of emotions experienced by men during these moments. For women, emotional connection, trust, and intimacy often become pivotal elements that foster a sense of deep pleasure during orgasm.
Eagerly exploring the realm of human sexuality through the unique lens of male and female orgasms allows us to appreciate the diversity and complexity of our experiences. By normalizing discussions about these subjects, society can encourage a shift in attitudes, fostering open communication and the validation of sexual preferences for both genders. Recognizing the significance of pleasure, intimacy, and emotional fulfillment for both genders is vital in cultivating loving and supportive relationships. Embracing a holistic understanding of the male and female orgasm signifies the ongoing journey towards a healthier and more enlightened realm of human sexuality.
Some of the health benefits for men and women from orgasms are: 
1. Physical relaxation: Orgasms release endorphins and promote muscle relaxation, leading to stress and tension relief.
2. Pain relief: The release of endorphins during orgasm can provide temporary relief from pain, such as headache or menstrual cramps.
3. Improved sleep: The relaxation and endorphin release associated with orgasms can help promote better sleep.
4. Strengthened immune system: Sexual arousal and orgasm can increase the production of antibodies and boost the immune system.
5. Reduced stress and anxiety: Orgasms induce a sense of well-being, reduce stress hormones like cortisol, and alleviate anxiety symptoms.
6. Cardiovascular benefits: Sexual activity that leads to orgasm can improve blood circulation, lower blood pressure, and reduce the risk of heart disease.
7. Pain management in women: Orgasms may temporarily alleviate pelvic and menstrual pain in women by releasing endorphins and increasing blood flow.
8. Improved mood: The release of endorphins during orgasm can elevate mood and contribute to a sense of happiness and contentment.
9. Better brain function: The increased blood flow and release of hormones during orgasm can enhance cognitive function and improve brain health.
10. Improved pelvic floor muscle strength: Orgasms can help strengthen the pelvic floor muscles, leading to improved bladder control and sexual satisfaction.
Wishing you all a plesure filled day whether you're flying solo or with a partner!  
***
We are excited to offer you tax free shopping on our entire selection of adult sex toys and sex accessories and fast and discreet shipping across the United States and Canada.  Use code: therealmeghulme at checkout to receive 15% off your order!  We understand the importance of discretion and offer a seamless shopping experience.  Have questions about your pleasure purchase? We'd be delighted to assist you.  You can contact us here.