Blog
Choosing The Best Sex Lube For You
Jun 27, 2023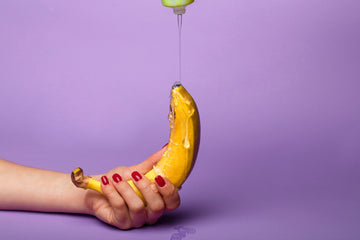 Lubes for everybody and for every occasion.  
Are you looking for a little extra slip-and-slide in the bedroom? Look no further than our vast selection of CBD infused lubricants and silicone and water-based sex lubes! Sexual lubricants can enhance your intimate experiences, adding pleasure and comfort for you and your partner.  Did you know that as much as 50% of men and women say they are more likely to orgasm if they use Sex lube! 
There are such a wide selection of intimate personal lubricants and so we are going to explain each and let you know what are our best sellers this month!  
CBD Infused Sex Lubricant 
CBD infused sex lube is a product that has been gaining popularity in recent times. As the name suggests, CBD, which stands for cannabidiol, is a non-psychoactive compound present in the cannabis plant. This compound has been found to have therapeutic properties and has been linked to reducing inflammation, anxiety, and pain. When infused in a lubricant, it can help in enhancing sexual experiences by relaxing the muscles, increasing blood flow, and reducing discomfort, making sex more pleasurable. As with any product containing CBD, it is essential to ensure that it is sourced from a reputable manufacturer and that the ingredients are safe for use.
Silicone Based Sex Lubricant 
Silicone-based sex lubricants are made from a silicone compound and provide a slick and long-lasting sensation. They are condom-safe and great for use in the shower, pool or bathtub as they are water-resistant. They are also a popular choice for couples looking to engage in prolonged intercourse as they do not dry out as quickly as water-based lubes.
We must note that silicone-based lubricants should not be used with silicone toys as they can break down the material over time.
Water Based Sex Lubricant 
Water-based sex lubes are made from water-soluble materials and provide a more natural feeling during sex. They are easily washable and compatible with all sex toys. Water-based lubricants also come in a variety of formulations, including flavored and scented options which is ideal for oral sex! 
Additionally, water-based lubricants may need to be reapplied more frequently as they tend to dry out faster. It is also worth noting that some individuals may experience irritation when using certain lubricants and should consult with a healthcare professional before use.
So whether you're looking for a long-lasting silicone lube or a classic water-based lube, these sex lubes are perfect for anyone looking to make their next intimate experience even better. Don't let friction ruin your sexy time – add a little lube to your routine and enjoy yourself to the fullest!
Our June top sellers: 
Unsurprisingly we saw a huge increase in sales of our Toca QULO which is an organic CBD sex lube which is specifically created with anal sex/play in mind. It is softening, warming and opening while creating silky lubrication. QULO increases blood flow and can prolong foreplay while heightening orgasms.
Pjur Aqua - Aloe and Water Based Sex Lube 
Pjur is always a good idea!  Think of this as a facial for your private parts!  Pjur Aqua Aloe Vera is a soothing water-based personal lubricant made with quality ingredients that's gentle on skin while providing exceptional lubrication that is never sticky or tacky and compatible with silicone sex toys, latex condom safe, easy to clean and ideal for daily use. 
LELO F1L Advanced Performance Moisturizer
Discover a new level of long-lasting pleasure with LELO's Advanced Performance Moisturizer- F1L. Designed to enhance natural moisture for a satisfying sensual experience that is always silky sleek to the touch and never sticky. This premium water-based personal lubricant does not contain parabens or glycerin, is condom-safe, suitable for sensitive skin and silicone sex toys! 
NEO Sensual Tingle Clitoral Stimulating Glide
One of our personal favorites is the Neo Sensual Tingle Clitoris Stimulating Gel which is a topical product designed to enhance sexual arousal and pleasure for women. It is formulated to provide a tingling, warming, or cooling sensation to the clitoral area upon application.  Designed specifically for clitoral stimulation, this smooth and silky glide comes in a 30ml bottle and provides a gentle tingle sensation for extra pleasure. Formulated for longer lasting pleasure for both partners.
 ***
We are so excited to invite you to shop our selection of adult pleasures absolutely TAX FREE - indefinitely!  We all need to catch a break and this break for all of our valued customers is tax free pleasure! 
We understand the importance of discretion and offer a seamless shopping experience with guaranteed privacy.
In June, use the coupon 'Pride2023' for all your purchases and receive 15% off!  Free shipping on all orders $45+ across the United States and Canada.